Video: How to Evaluate Employee Performance Reviews (OrangeHRM OS 4x)
Self-evaluation helps an employee become an active participant in their own review. An employee's involvement enables them to honestly assess their strengths and also areas they need to improve. Employees then can participate more constructively in the evaluation meeting with their supervisor.
How to navigate to your review?
To access your Performance Review, go to Perfromance> Manage Reviews > My Reviews
All of your performance evaluations conducted throughout your employment will be listed on this page.

The most recent performance reviews, for which you must provide a self-evaluation, are often shown at the top. To access your review, find the review where the Self-Evaluation status is Active or In Progress and click the evaluate button.
What's in your Performance Review?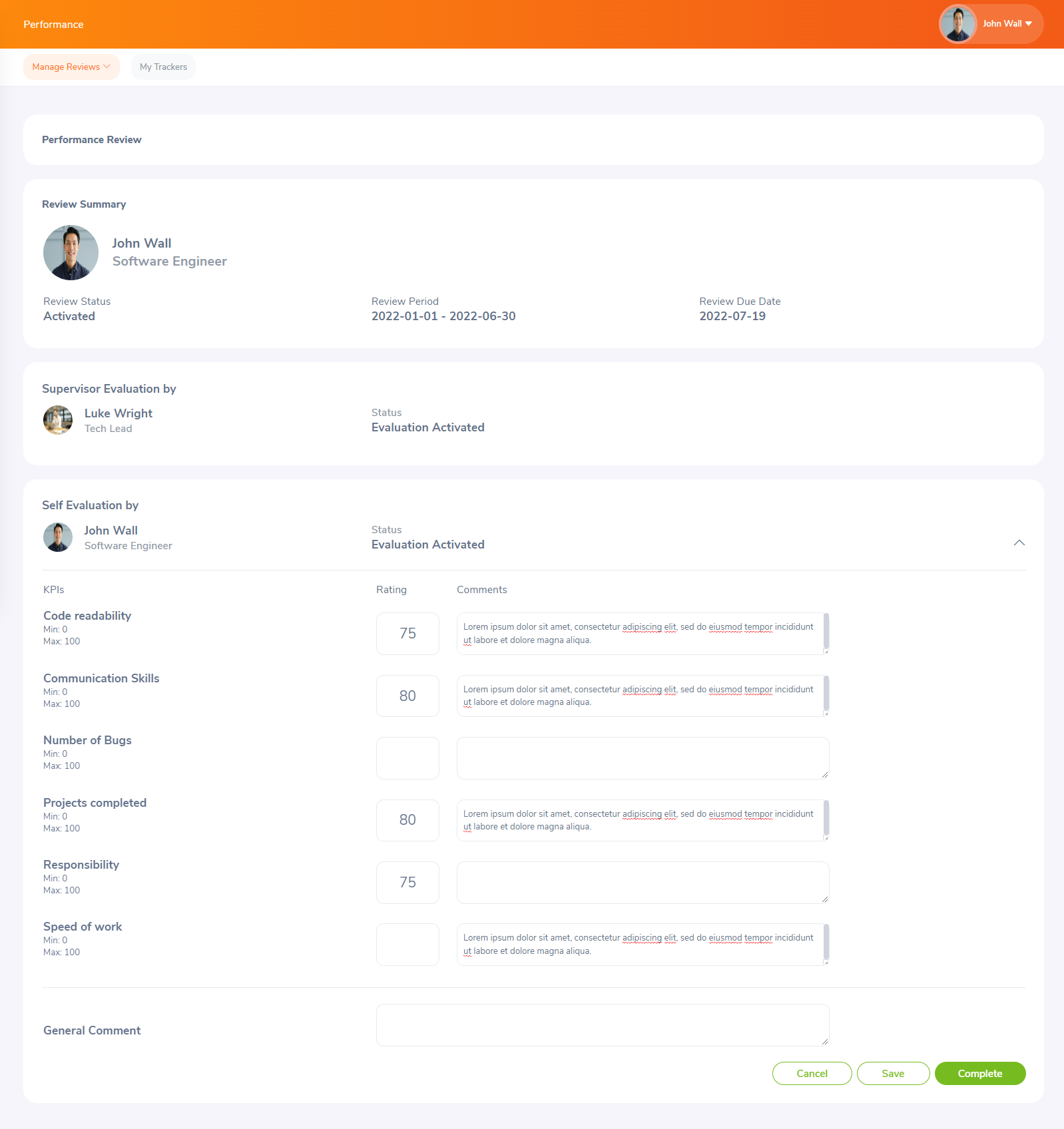 The Performance Review consists of four sections.
Review Summary

Self Evaluation

Supervisor Evaluation

Review Finalization
Review Summary

The review summary provides a brief introduction to the employee's review. The summary reveals the following information.
Employee's name

Shows the employee's name whose performance is being reviewed.

Job Title

Shows the employee's job title whose performance is being reviewed.

Review Status

Displays in which stage the review is currently at. Review can have the following status;

Activated: Newly created reviews start from this state

In Progress: If either the supervisor or employee makes an update to their evaluation, the review will move to the initiated state.

Complete: Final state for the review. When the administrator (or supervisor) completes the review after providing their personal assessment, final rating, and comments, the review will be recorded as completed.

Review Period

The review period is the period of which the employee's continued employment is assessed and discussed. This might be done yearly, twice a year, or any other acceptable timeframe depending on your company's practices.

Review Due Date

Indicates the deadline for the supervisor to finish the employee review.

Final Rating

This is available only for completed reviews. Final Rating received shall be displayed here.
Supervisor Evaluation
Your supervisor assigned as the reviewer for your Performance Review must complete this area; it is not visible to you until the Review is completed. The name and job title of your reviewer are visible, as well as the evaluation's state, which can be Activated, In progress, or Completed.

Self Evaluation
Self Evaluation needs to be completed by y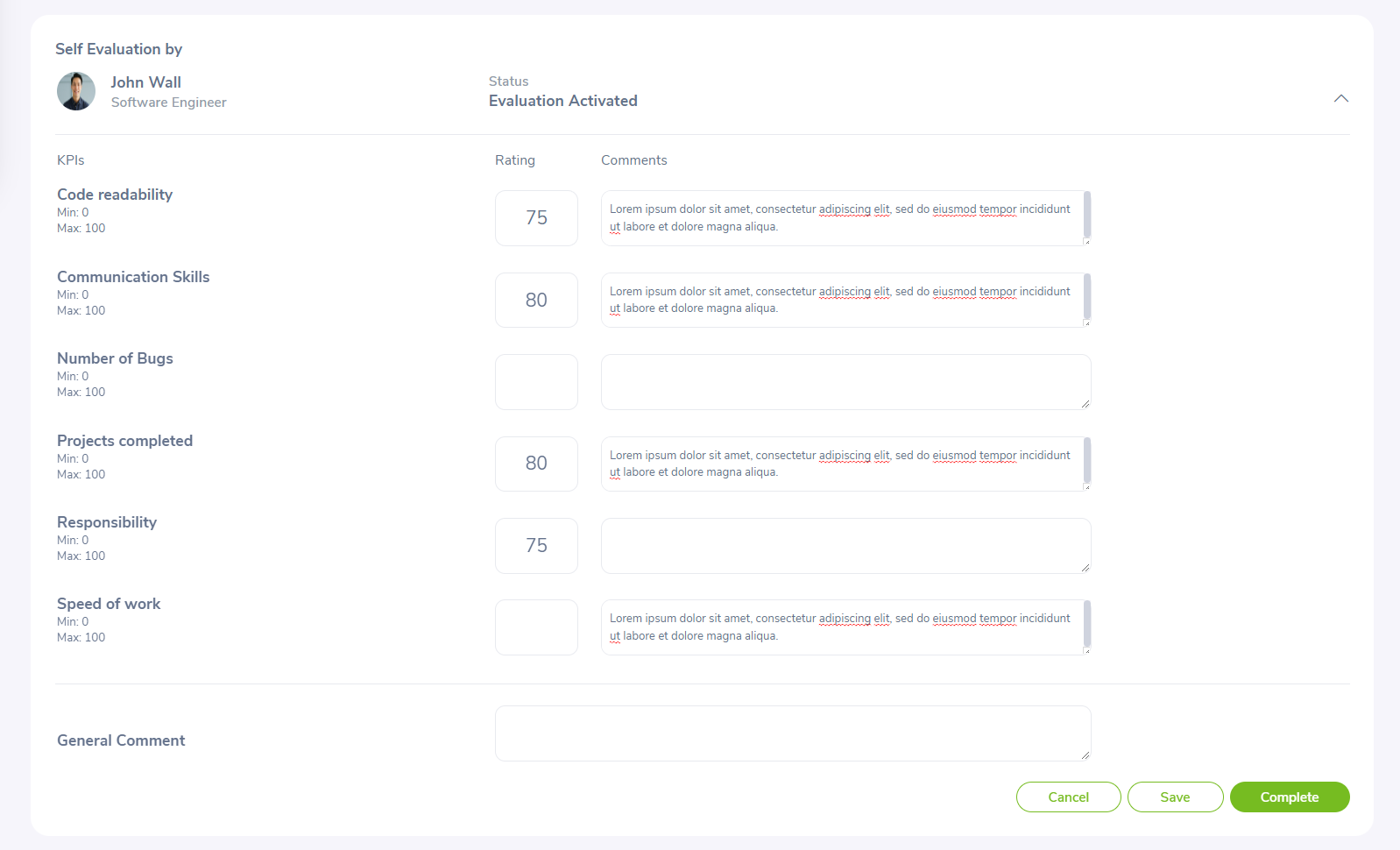 ou as a part of your Performance Review.
A list of KPIs (Key Performance Indicators) relevant to your job title shall be included in the evaluation form. This gives you the chance to think back on your performance during the review period and evaluate your strengths and areas for improvement. This enables you to contribute more constructively in the evaluation meeting with your supervisor.
The evaluation form provides Rating and Comment section for each KPI listed where they can rate themselves and share their perspective. In addition, you can utilize the general comments field to address any concerns which are not directly related to the KPIs.
Self-evaluations are not intended to be completed all at once. You may save your progress and come back to the page later to finish it. Their evaluation status will be indicated as "In Progress" once saved. Even though it's not required to rate or comment on every KPI, be sure you do so before you submit the evaluation as Completed. This action cannot be reversed after it has been done.
Review Finalization
The user cannot access this part until your reviewer has completed your performance review. You may then see your Final Rating and the reviewer's remarks on your performance within the time period taken into account for your review.
What happens after completing your self Review?
Although both supervisor and self-evaluations can be done simultaneously, your supervisor may complete their evaluation after a performance evaluation meeting with you where both parties can actively contribute to assessing your performance. This approach might vary from organization to organization since many organizations employ various practices.
Once the review is completed, you can view the Supervisor evaluation and the Review feedback along with the ratings provided.