A manager in the organization will have the necessary privileges to cancel/approve/reject an employee's request due to various reasons. Many managers/ supervisors and HR professionals face the problem of getting a clear overview of all the leave requests and the processing of a large number of leave requests. With OrangeHRM's feature which facilitates approving/rejecting/cancelling leave requests, Employed assigned as supervisors or admins are able to filter out and perform the above actions for a selected list of employees. Also, they are capable of getting a clear overview of an employee's leave request and can also process a large number of leave requests at the same time.
Step 1
Go to Leave > Leave List. You will be able to see all pending leave requests by your employees. However, supervisors can view leave requests made by their subordinates only whereas Admin users will be able to see leave requests of all employees in the system.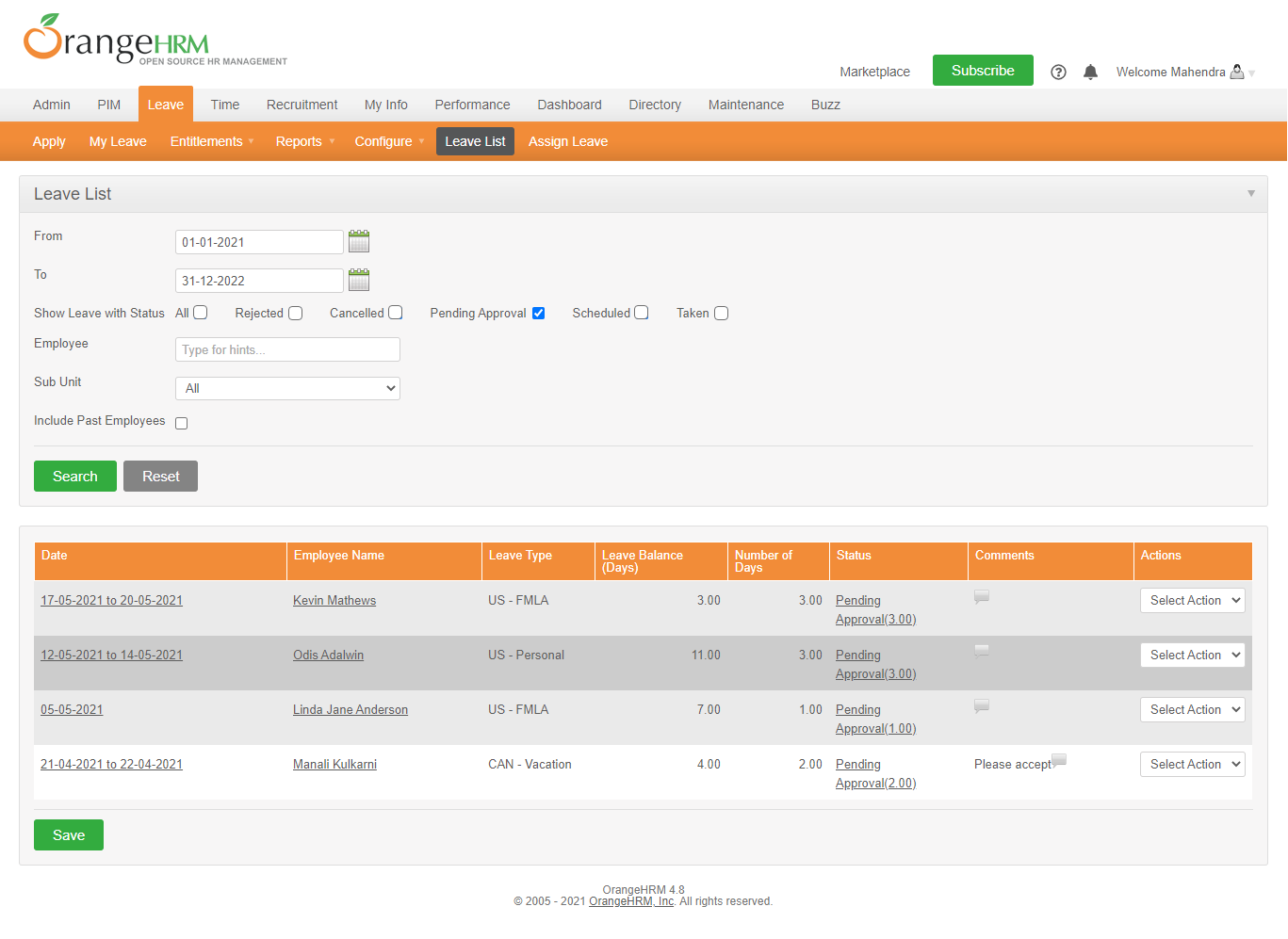 Step 2
Search the list based on the employee name or the user can fill the following filter criteria to narrow down their search.
| | |
| --- | --- |
| Filter | Description |
| From/ To | The user can specify the time period within which the employee applied for leave. |
| Show Leave with Status | The user can mark the relevant checkbox relating to the status of the leave as All, Cancelled, Pending Approval, Scheduled, Taken, Rejected |
| Employee | The user can search based on the name of the employee. |
| Sub Unit | The user can search the employee based on the sub unit/department they are attached to |
| Include Past Employees | By marking the checkbox for this field the user can include past employees for their search as well. |

Step 3
After defining the filter criteria, click 'SEARCH' to filter the list.
Step 4
For each leave record, select the applicable action from the drop-down list and click 'SAVE'.

OR
Click on the Status of the relevant leave request to view comprehensive details of the leave request and Appove/Reject/Cancel individual days.